There's a saying throughout the wine community that states "great wine starts in the vineyard". This in part pays homage to the vine itself, but also highlights the importance of the viticulturist.
Viticulturists carry a heavy responsibility; their work in the vineyard defines all resulting wines and has the greatest impact on the land they are the custodians of. Brooke Howell, who manages vineyards for Yalumba and Pewsey Vale as well as being president of the Australian Society Viticulture and Oenology, leans into this. She has established a reputation not only for bringing vineyards to their full potential, but for her pragmatic approach in doing so. Sustainability, technology and community are only a handful of things that Brooke can be found at the forefront of, all of which we were lucky enough to discuss with her.
Brooke in a Snapshot
What is the impact that you would like to have on the wine industry?
I would like to ensure that the next generation of viticulturists and winemakers are equipped with the knowledge from previous generations to ensure the industry keeps moving forward and doesn't repeat past mistakes
What do you look for in a wine?
Complexity, good balance, strong fruit character on the palate, and whether it matches the mood I'm in.
What grape variety would you like to see more people growing in South Australia, and where would you like to see it grown?
I think diversity is important so I'm not passionate about any one variety. Having a choice of traditional and alternate varieties makes it fun to be a viticulturist and a consumer.
What is one thing you hope never changes when it comes to the wine industry?
The community spirit and camaraderie of those involved to learn from each other and enjoy telling stories over a glass of wine
What's your favourite, yet slightly weird, wine and food pairing?
Heggies Chardonnay with lightly grilled haloumi with a squeeze of lemon over the top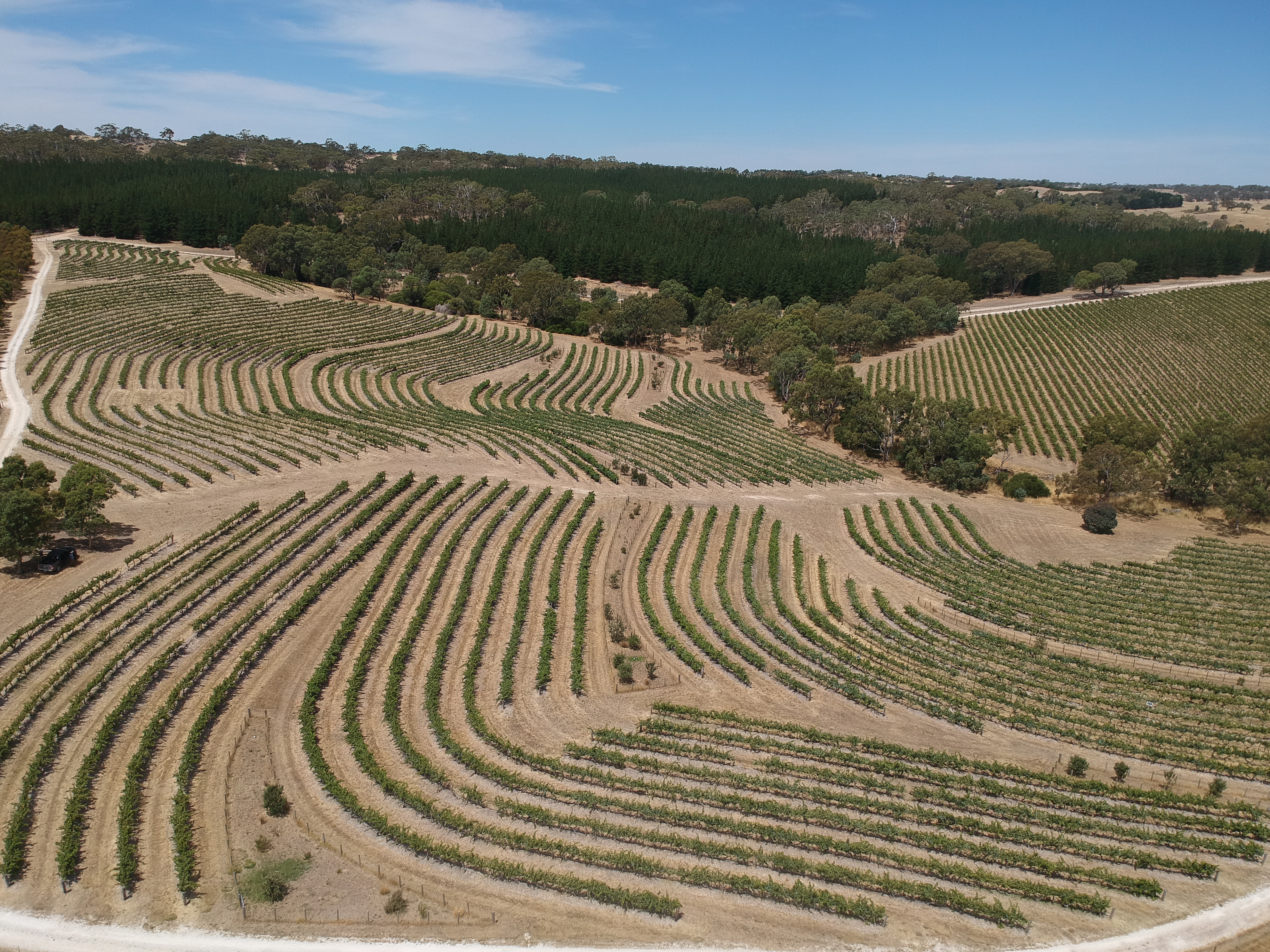 The Story So Far
What led you to become a viticulturist?
I first became interested in the wine industry when I undertook some work experience whilst at school and thought it would be a great hands-on industry to work in. I grew up on a broadacre farm on Eyre Peninsula, so I have really just moved from one sector of agriculture to another. I love feeling connected to nature and being outdoors. The wine industry is a collaborative environment, where the viticulturist and the winemaker work together to craft some fantastic wines that are unique to each season. In addition, each season has its different challenges, and each vineyard block is also variable so there is no time to get bored!
I heard you have done some incredible things with viticulture in the Barossa, what have you been working on recently?
I am currently working with Wine Australia to set up an AgTech demonstration site where various technologies will be trialled to help improve efficiencies and give us more data to improve decision making. We are aiming to then take our learnings and disseminate this to growers who can come and kick the dirt and see it working before they opt to dive in. We have had some great success with other Agtech platforms that allow individuals across our production chain to have access to information, improving transparency and allowing greater communication. To have the opportunity to trial several technologies from start up AgTech companies is exciting as we will be able to evaluate their true potential and what it can do for our business and others in the grape growing community.
What does an average day look like for you?
This all depends on the season. As I write this the growing season is just beginning with the warmer spring weather comes budburst which means there is plenty of activity in the vineyard. I manage a small team and we are all very hands on. At this time of year my focus on a daily basis turns to soil moisture monitoring and management of irrigation, along with monitoring vine health and making decisions to maintain strong, healthy vines in the best way possible.
You manage the Barossa vineyards for Yalumba and Pewsey Vale, as well as providing support for vineyards in other parts of South Australia. What do you think the future of viticulture is going to look like in South Australia?
There are a number of vineyards across all the different wine regions in South Australia that are suffering from varying degrees of trunk disease. Depending on the severity of infection, in some cases the only answer is to remove the vines and replant. This provides a great opportunity to really examine the vineyard and its potential and make smart choices about a number of elements including variety suited to the environment, trellising systems and irrigation setup to match soil type.
Availability of labour is becoming an issue in vineyards. There is an opportunity for Agtech such as robots to integrate into vineyards to do some of the mundane tasks that humans are less interested in performing. We see more and more autonomy coming into other parts of agriculture so it's only a matter of time before they are engineered to suit vineyards. It won't be without its teething problems, but the introduction of robots will free up more of our time to focus on the things that really matter.
What do you think the wine industry should be focusing on in the coming years when it comes to vineyard management?
Climate change is a major challenge for viticulture in general, with changing weather patterns and more extreme weather events such as heatwaves and frost putting additional stress on the vines. Managing vineyards can be particularly tricky in these circumstances, especially in an industry where there is a heavy reliance on irrigation to maintain good vine health. The climate models indicate there will be less rainfall and it will be more variable, which means the availability of good quality irrigation water will be essential in order for growers to be able to produce enough fruit to remain financially viable. Vineyard management will also need to focus on how we can introduce techniques to help the vines adapt to these variable conditions.
The vineyard needs to be considered holistically as a small piece of the larger environment and as custodians of the land we need to ensure our practices are sustainable to maintain it in a way that it is productive and functional for many more generations.
How would you like to see wine consumers engaged with the grape growing process, terroir and provenance of the wines they drink?
Covid has made it difficult for consumers to be able to visit wineries and cellar doors, where they are able to hear about the wines and the people who helped to craft them. Each region has its own unique features (soil type, weather conditions, elevation) that characterise the wines that come from the area. I think it's important that consumers understand these individual elements and what makes the wine different. There are so many different ways to make a wine from the same variety, and no two wines are the same (even from the same block) from one year to the next. There is always a story to be told about where the wine has come from, and if consumers have access to these stories then it is more likely to resonate with them. When they see the label in a bottle shop or restaurant, this will hopefully mean they are more inclined to buy a bottle and share it with their friends and family.
What do you think the biggest challenges are for viticulturists in recent times, and in what ways can the industry overcome these?
Aside from the previously mentioned climate change issue, viticulture relies on spraying of agrochemicals to protect vines from pests and diseases. However, with growing pressure from a human health and environmental impact perspective, this has meant that some pesticides are restricted or banned entirely for use. A good example of this is glyphosate as the common herbicide. The industry is being quite proactive to look at what other approaches they can utilise as part of their integrated pest management programs, but more could be done in this space. There is research being conducted into the genetics of grapevines that are resistant to pathogens such as powdery and downy mildew, and this may be the way of the future if the fruit quality is of a similar standard.
Tell us a bit about your role as president of the Australian Society Viticulture and Oenology board of directors.
My role as President is to lead the Board in setting the strategic direction for the Society. The ASVO is all about professional development and sharing of research and technical information in viticulture and oenology. Essentially, our job as Directors is to provide forums for the latest and most relevant technical information to be exchanged between the researchers and the practitioners to enhance the industry as a whole. With COVID, like everyone else, we had to think differently about how we delivered the content to build our members' knowledge which will subsequently help them in their organisations. The ASVO has been in existence for 40 years, and while a lot has changed, the same principles it was established for still apply. It's my job as the leader to ensure we continue to uphold those principles by encouraging people to share their technical knowledge and skills with others for the betterment of the whole industry.
Tell us about your favourite memory in the vineyard to date.
There's so many!! There is always an opportunity to learn in the vineyard. I have had the privilege of travelling to several wine regions across Australia and the world which has enabled me to see and hear first hand from other viticulturists the challenges and advantages of growing grapevines in their location. Grapevines are a bit of a weed (they grow anywhere) so it is fascinating for me to see how other people use different practices to grow healthy, productive vines in their patch of the world.