In today's digital age, consumer engagement is paramount for brands aiming to build loyalty, strengthen brand trust, and deliver a more impactful consumer experience. Cellr's powerful connected packaging software suite makes it easier for brands across all industries (including wine, spirits, beer, FMCG, apparel, cosmetics and more) to deliver a stronger connection between brand and consumer.
Cellr's platform is connecting technology agnostic, meaning that we work with different technologies to connect those physical and digital worlds, but one powerful tool that has revolutionised consumer interaction is the QR code.
QR codes are scannable codes that provide a seamless bridge between the physical and digital worlds, offering exciting possibilities for brands to connect with their customers. In this article, we will explore five creative ways to use QR codes for consumer engagement in 2023, thinking beyond sending a consumer to your homepage or social channels and instead looking at how to amplify the customer experience.
1. Creating Immersive Experiences with Connected Packaging
QR codes have the ability to turn ordinary packaging into a gateway to a wealth of information and interactive experiences. By incorporating QR codes into product packaging, brands can engage consumers with immersive content such as videos, product details, user reviews, and social media feeds. This approach, called connected packaging, enables brands to deliver a personalised and captivating experience that strengthens consumer loyalty and trust.
2. Ultra-Personalisation at Scale: The Brown Brothers Gifting Campaign
Cellr's software platform opens up opportunities to leverage unique, one-to-one, batch-managed QR codes that unlock a new layer of personalised consumer engagement. Using the Cellr feature stack, Brown Brother's Family Wines delivered a gifting campaign that provided a deeper, personalised and more meaningful experience. Implementing a batch of unique and dynamic QR codes on specially marked Prosecco bottles, consumers were invited to curate their own personal content in the form of a digital gifting card that included messages, videos, and photos.
The results from this campaign were phenomenal. Not only was Brown Brothers able to deliver an extremely personal connection to consumers, but this campaign also delivered high engagement rates, with the campaign achieving up to 79.63% CTR, compared with a maximum of 0.08% CTR for the same campaign's social media advertising. It also saw a substantial increase in product sales due to the whole marketing campaign behind this promotion.
3. Amplifying Brand Partnerships: Redemptions and Loyalty
Collaborating with other brands can achieve various business goals, such as new customer acquisition, brand credibility, sales boosts, and generating buzz. However, ensuring that both brands are well-aligned and derive mutual value is a significant challenge for successful collaboration.
Using QR codes to deliver brand partnerships, promotions, and incentivised loyalty campaigns can dramatically boost success. Cellr recently delivered collaboration success for a recent partnership with leading online beauty retailer Adore Beauty and clients Brown Brothers. Cellr recognised the challenges faced for a collaborative redemption campaign and provided the toolkit to navigate them, allowing consumers to seamlessly scan a unique QR code, enter their details, and receive a $20 gift voucher to be used on Adore Beauty's website. The results of this successful campaign can be reviewed here.
This same approach could be taken to deliver any competition, promotion, or loyalty scheme. It also assists in removing barriers associated with omnichannel markets.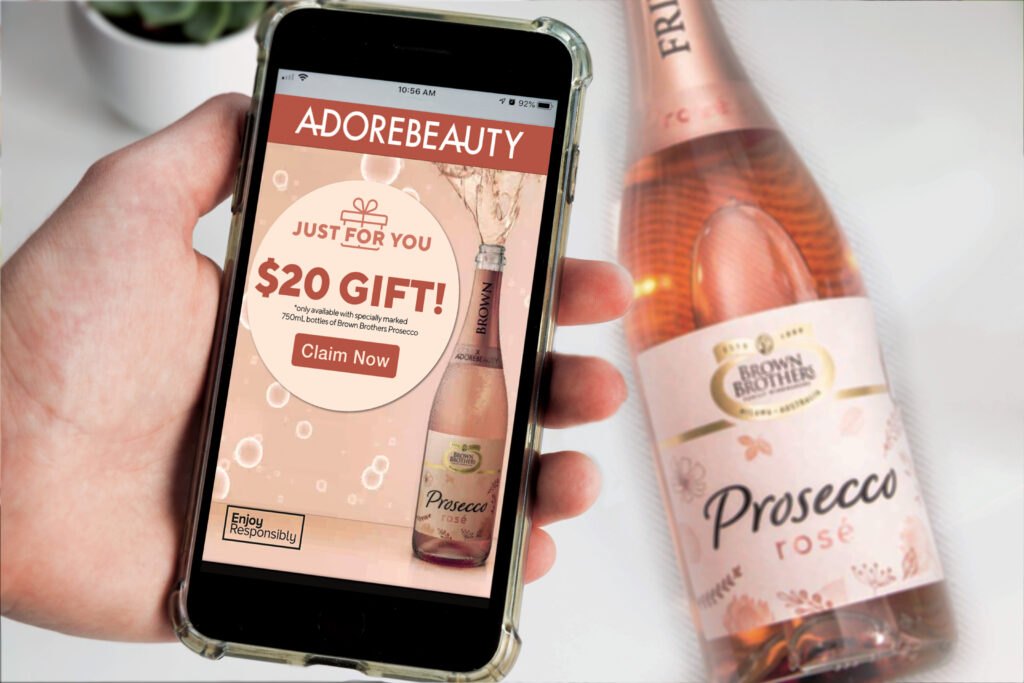 4. QR Codes for Compliant eLabels: Streamlining Information Access
In regulated industries, such as pharmaceuticals or food and beverages, complying with labelling requirements is essential. QR codes can be utilised to provide compliant electronic labels (eLabels) that streamline access to important information. Brands can include QR codes on their product packaging, linking to digital labels that provide comprehensive ingredient details, usage instructions, warnings, and other necessary information. This ensures that consumers have easy access to accurate and up-to-date information while eliminating the need for excessive printed labels.
In recent times, Cellr has provided a compliant eLabel feature that will allow wines sold in the European Union (EU) to comply with the most recent mandated regulations around nutritional information, ingredients and recycling.
5. Gamification and Contests: Driving Engagement and Excitement
QR codes can be utilised to deliver gamification into consumer engagement strategies. Leveraging the power of connected packaging and Cellr, brands can create interactive games, quizzes, or contests, encouraging consumers to scan and participate. By offering incentives such as discounts, rewards, or exclusive access to limited-edition products, brands can generate buzz, increase consumer engagement, and create a sense of excitement around their offerings. These gamified experiences also provide valuable data and insights for brands to refine their marketing strategies and foster a deeper connection with their audience.
As consumer expectations continue to evolve, brands must embrace innovative solutions to deliver engaging experiences. QR codes provide a versatile and dynamic tool for consumer engagement in 2023 and beyond. By leveraging Cellr's technology, brands can unlock the full potential of QR codes, delivering ultra-personalisation at scale, using compliant eLabels, and amplifying brand partnerships. By incorporating QR codes into their strategies, brands can forge deeper connections, inspire loyalty, and build trust in today's competitive marketplace.